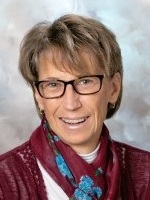 Mar. 16-18
Women Register Now
Life In the Spirit Women's Retreat with Susan Potvin and the Living Praise Worship Team Mar. 16-18
Life in the Spirit retreat for women of all ages will be presented by Susan Potvin and the Living Praise Worship Team (www.LivingPraiseWorship.com), and is sponsored by the Morning Star Chapter of Magnificat (www.MagnificatOfLincoln.com).
What does it mean to have a personal relationship with God, the Father? Jesus, the Son? What does a personal relationship with the Holy Spirit look like? During the Life in the Spirit retreat, we will hear talks of the Father's intimate love for us, seek the healing Jesus has for us, and learn about the gifts of the Holy Spirit and experience His empowerment in our lives. The retreat will include small group discussion, times of praise and worship, and opportunities for silence, prayer, Adoration and the sacraments.
Susan Potvin, worship leader and inspirational speaker, has been involved in Catholic renewal work for more than thirty years. She and her husband Urby of thirty-six years, reside in Steubenville, Ohio. Passionate about adoption, they have raised 4 children and have one grandchild. Susan is the leader of Living Praise Worship Team, which has produced six CD's and traveled nationally and internationally, serving churches, revivals, retreats and other conferences and events. Susan is an adviser to Magnificat - A Ministry to Catholic Women.
Joining the retreat will be Anne Recznik. Anne and her husband Mark have 5 daughters and 1 granddaughter. Their youngest daughter was adopted from China. As a stay-at-home mom, Anne enjoys volunteer work, helping with fundraising, coaching volleyball, and serving the Lord through music and worship as the keyboard player of Living Praise Worship Team. Also joining is Carolyn Cannizzaro, a wife, mother and grandmother, and elementary school teacher. She enjoys teaching, singing and cooking, and is involved as a Catechist, Worship Leader, Cantor, and is a Eucharistic minister to the sick and homebound. She leads a Women's ministry out of her home called "I AM" Women's Fellowship and she enjoys singing God's praises with Living Praise. Most of all, Carolyn loves our Lord Jesus and desires to share His love with others.
PLus a Magnificat Prayer Meal with Susan Potvin on Sun. Mar. 18, 4pm at Hillcrest Country Club.