"Love Made Visible" Prayer Campaign

Last month, the members of our Good Counsel Retreat House family should have received an announcement in the mail of our "Love Made Visible" Prayer Campaign.

It is an opportunity for thanksgiving, to celebrate the great gift and value of our Retreat House, and the many ways the Lord is working through this ministry to build the faith and spiritual life of all who come here.

Our "Love Made Visible" Prayer Campaign is two-fold.

Good Counsel Retreat House and our retreatants will join in praying for your intentions, especially at our monthly Mass offered for all the retreatants.
We ask that you keep our intentions in your prayers, especially in your Holy Hours and Eucharistic visits. Please pray for all our retreatants and benefactors, that Good Counsel Retreat House may continue to grow as an instrument of grace, touching the hearts of all who come here.

This is a Prayer Campaign because ours is a spiritual outreach of touching lives and healing souls, whose value cannot be calculated using worldly measures of success.
Oct. 6-8
Men & Women Register Now

"The Fruits of Our Lady of Fatima: 100 Years" a weekend retreat with Fr. Gary Coulter, Oct. 6-8

2017 marks the 100th Anniversary of Our Lady of Fatima, the apparitions of the Blessed Virgin Mary to the three children in Fatima, Portugal. In this Oct. 6-8 retreat for men or women, based on the message of Our Lady (and the Angel), the retreat house director, Fr. Gary Coulter, will examine how the message of Fatima is still relevant today. Topics include Angels, the Rosary, the Eucharist, Marian Consecration, Repentance and Conversion.

Having just completed a pilgrimage to Fatima in July, Fr. Coulter says, "It was a blessing to see the great devotion and large numbers of people in Fatima. The Church is alive, and Fatima is still bearing spiritual fruit one-hundred years later. It's message of prayer and conversion is still needed today."

Just as the Fatima Angel said to the shepherd children, "What are you doing? You must pray! Pray!" - so too Fr. Coulter noted, "we are in need of times of prayer and places of sanctuary, and making a retreat is the perfect opportunity to do that." To learn more, he suggests Fatima for Today by Fr. Andrew Apostoli.

Ordained in 1999, Father Gary Coulter is Director at Our Lady of Good Counsel Retreat House, serves on the Diocesan Tribunal, and is a Vicar for Religious. He previously served at St. Mary, Ashland and St. Joseph, Greenwood, as well as Blessed Sacrament and St. Patrick parishes in Lincoln.
Oct. 20-22
Men & Women Register Now

"Jesus, Please Heal Me!" Weekend Retreat with Fr. Craig Doty, Oct. 20-22

After a powerful experience attending an "Equipping for Pastoral Ministry" retreat at the JPII Healing Center in Tallahassee, FL last spring, Fr. Craig Doty prays that this retreat will help more people open their own hearts to the healing that only Jesus can give!

The John Paul II Healing Center was founded by Dr. Bob Schuchts, author of Be Healed: A Guide to Encountering the Powerful Love of Jesus in Your Life. Fr. Doty recommends that everyone read this book.

Fr. Doty says this retreat is for anyone who "wants to discover or grow in the healing power of the Spirit. All of us need healing from the wounds of sin, which in turn effects our relationships, work, and daily life." Men or Women of all ages are invited.

Ordained in 1997, Father Craig Doty is Pastor at St Wenceslaus, Wilber and St. Joseph, Tobias, he was previously pastor at St. Mary, Aurora and St. Joseph, Giltner. He also works in the Diocesan Tribunal Office and is Co-Vicar for Religious.

Fr. Doty speaks of why retreats are so vital. "A prayer-filled retreat opens us to God's grace and His power to transform our lives. In prayer the Holy Spirit conforms our hearts to Christ, leading us to experience His mercy and imitate His self-giving love."
Oct. 27-29
Men & Women Register Now

"Total Consecration: On pilgrimage to Jesus with Mary", Weekend Retreat with Fr. Mark Cyza, Oct. 27-29

Total Consecration is a giving of oneself to Jesus Christ through the hands of His Mother the Blessed Virgin Mary, believing that Mary always leads us closer to her son.

Fr. Mark Cyza and the Legion of Mary invite all men and women to learn about this devotion which comes from St. Louis de Montfort, a French priest (1673-1716) who wrote how "the surest way" to grow in a relationship of love with Jesus Christ is to grow in a relationship of love with His mother Mary. Pope St. John Paul II lived and popularized this devotion, as indeed his Papal motto "Totus tuus" was taken from a prayer of St. Louis de Montfort to Mary: "I am totally yours."

While targeted for members of the Legion of Mary, all men and women who are interested in a Marian retreat, or want to learn more about the Legion of Mary, are invited. Fr. Cyza notes how, "people are hungry for God and desire to experience the Lord and know Jesus in a more profound way, and Mary helps us to do that. Mary is the perfect example of complete dependence, union, and abandonment to God."

The Legion of Mary is a lay apostolic association of Catholics who, with the sanction of the Church and under the powerful leadership of Mary Immaculate, Mediatrix of All Graces, serve the Church and their neighbor on a voluntary basis in about 170 countries. The object of the Legion of Mary is the glory of God through the holiness of its members developed by prayer and active co-operation in Mary's and the Church's work.

Fr. Mark Cyza is pastor at St. Benedict Parish in Nebraska City and Chief Administrative Officer at Lourdes Central Catholic School. Ordained in 2004, Fr. Cyza was an assistant pastor at the Cathedral of the Risen Christ in Lincoln and at St. Mary Parish in Nebraska City. He has always been involved in teaching and schools, and also the Spanish-speaking apostolate. Some of his homilies and retreats can be found at www.comehometojesus.com.

Fr. Cyza enjoys both giving and attending retreats, as he believes they are a essential part of growing in our faith. "Being educated in our faith through things such as apologetics and catechesis is wonderful, but we also need to experience those truths at the level of the heart, and a retreat is that place where we can grow in intimacy with God and learn to follow the divine will for our life."
Nov. 2-5, Women
Dec. 7-10, Men Register Now

What is "Regnum Christi"? (Hint: it's Latin for The Kingdom of Christ)

Regnum Christi is an international Catholic Movement open to all lay Catholics and dedicated to promoting the Catholic faith. Their motto is "Love Christ, Serve People, Build the Church." Its spirituality can be described as four loves: love for Christ, love for Mary, love for souls, and love for the Church and Pope.

Members of Regnum Christi make a commitment to specific daily prayers and meditation, weekly meetings called Encounters, and annual spiritual retreats. They also commit to work actively in some concrete way in service to the Catholic Church, i.e. apostolates.

Members strive to live friendship with Christ through prayer and the sacraments, to grow in virtue, to fulfill the duties of their state in life, to live a genuinely Christian life, especially guided by charity, to grow through formation as true disciples and apostles of Christ, to be be faithful to and love the Church, to be generous with their talents, time, possessions and apostolic work.

The Legionaries of Christ, the priests of Regnum Christi, lead an annual preached retreat for Regnum Christi members, based on the topics contained in the Spiritual Exercises of St. Ignatius of Loyola: the History of Salvation beginning with Creation and Original Sin, our Redemption by the coming of God as Man, and our goal of Eternal Life in Heaven.

While targeted for Regnum Christi members, anyone interested in making a four-day retreat, especially those interested in learning more about Regnum Christi is invited.

Regnum Christi is hosting two upcoming retreats: Nov. 2-5 for Women and Dec. 7-10 for Men. The retreats start on Thursday night and conclude Sunday morning (the men's retreat also starts with a social and steak dinner!)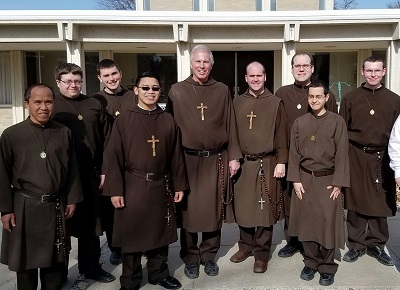 The Knights of the Holy Eucharist, an evolving new Franciscan Community of Men
Those who have been on retreats in the last year at Our Lady of Good Counsel will have seen two men in brown robes praying and working here at the Catholic Center. Parishioners at Sacred Heart Parish in Lincoln will have seen six more living on the upper floor of the old convent, now renovated as the Sacred Heart Friary. And many people will have seen members of this new community at many diocesan and parish events, as they serve at Mass and processions, and have attended many workshops, speakers and activities.
These are the Knight of the Holy Eucharist, a new mens' religious community in the Diocese of Lincoln, although they aren't so new: they were founded by Mother Angelica of EWTN in 1998 at the time of the construction of the Shrine of the Most Blessed Sacrament in Hanceville, Alabama. They are one of two mens' orders founded by Mother Angelica, who desired to have a group of men dedicated to the operations of the Shrine, thus freeing her Poor Clare nuns for cloistered contemplation. They would become Franciscan brothers with wholehearted devotion to Jesus in the Eucharist, total consecration to Mary, and absolute loyalty to the Church.
The primary mission of the Knights of the Holy Eucharist is to foster reverence and spread authentic devotion to Jesus Christ truly and substantially present in the Most Holy Eucharist. They zealously encourage the Christian faithful to participate in Eucharistic adoration and promote faith in the Real Presence of our Eucharistic King.
They Knights of the Holy Eucharist have been welcomed into the Diocese of Lincoln, praised and recognized as an Association by Bishop Conley. And on October 4, the Feast of St. Francis, five novices in the community will take first vows, solemnly promising to observe the Gospels in imitation of Jesus Christ by living a life of poverty, chastity, and obedience. They live as Franciscan religious brothers, and currently none of them are ordained priests.
Please pray for this new undertaking, and for the Lord to call many men and women to the vocation of the Consecrated Religious Life.