November 1: All Saints Day, Holy Day of Obligation
The month of November begins with the Solemnity of All Saints on November 1, a Holy Day of Obligation. Throughout the year, we celebrate various canonized saints, but on this day we celebrate the multitude of all Saints who have attained heaven. The Saints inspire us with tremendous hope, for they were baptized, marked with the sign of faith, faithful to Christ's teaching, and they have gone before us to the heavenly home. We call on their intercession and follow their example.
Next the Commemoration of All Souls is November 2, a day to remember and pray for the souls in purgatory. Purgatory is necessary so that souls can be cleansed and perfected before they enter into heaven, and this cleansing can be aided by the prayers and sacrifices of the faithful on Earth. It is especially commendable to have the Holy Sacrifice of the Mass offered for the deceased.
November also brings to a close the liturgical season of Ordinary Time and is marked by Scripture readings at Mass on the last things: death, judgment, heaven and hell. It culminates with the Solemnity of Our Lord Jesus Christ, King of the Universe. You are also invited to join us for Evening Prayer and Potluck celebrating Christ the King on Sunday, Nov. 26, 5:00 PM.
Nov. 2-5, Women
Dec. 7-10, Men Register Now

Two 4-Day Retreats with Regnum Christi, The Kingdom of Christ - Nov. 2-5, Women; Dec. 7-10, Men

Regnum Christi, the Kingdom of Christ, is an apostolic movement of men and women who love Jesus Christ, His Church and souls. Members commit to live out their baptismal call to holiness and to engage in apostolic action, to establish the Kingdom of Christ in every person and in society.

The goal of the Regnum Christi retreat is to bring God's love to the retreatants, inspiring them to fall in love with Jesus Christ especially through prayer and the sacramental life, helping them come to know better the truths of the Catholic Faith and inviting them to participate actively in the evangelization of culture and society. Be awakened to discover your mission in life and in the Church.

The retreat is based on the classic Spiritual Exercises developed by St. Ignatius of Loyola. Retreatants meditate on the principal truths of the Christian faith with a special emphasis on following and imitating Christ. Each person is invited to have a personal encounter with Christ as they discover him in the Gospels. The retreats will be presented by priests from the Legionaries of Christ.

Please note that these 4-day retreats start at 7:00pm on Thursday. These retreats are open to all ages, including those who are not familiar with the Regnum Christi movement.
Nov. 17-19
Men & Women Register Now

"Seven Sorrows of Mary" Weekend Retreat with Fr. Steve Thomlison, Nov. 17-19

The purpose of the Devotion of the Seven Sorrows is to promote union with the sufferings of Christ through union with the special suffering that Our Lady endured because she was the Mother of God.

Fr. Steve Thomlison says, "By uniting ourselves with both the Passion of Christ and His holy Mother, we enter into Jesus' Heart and honor Him greatly; He is more honored because we have so honored His Mother."

This retreat is for anyone who wants to learn about the graces and benefits of this great Devotion of the Seven Sorrows of Mary. Fr. Thomlison hopes that "as we go deeper into each of the seven mysteries, it will bring the retreatants to see the love in Mary's Immaculate Heart which suffers in union with her son."

Ordained in 2010, Fr. Steve Thomlison is pastor at St. Stephen, Exeter and St. Wenceslaus, Milligan, and he is Chaplain for both the Nebraska Army National Guard and the Nebraska State Patrol. See him on Facebook at facebook.com/fr.thomlison.

Fr. Thomlison notes the importance of retreats, both for himself as a priest, and for all laity who are to be an example and witness to others. "On a plane, you have to put your oxygen mask on first before helping others. The same is true of prayer. Be grafted to Christ first."
Dec. 1-3
Men & Women Register Now

"Baptize, Teach, and Know I Am With You" Weekend Retreat for Catechists with Bishop Robert Finn, Dec. 1-3

In Jesus' last instructions in St Matthew's Gospel, He gave the apostolic charge to His disciples: "Go therefore and make disciples of all nations, baptizing them in the name of the Father and of the Son and of the Holy Spirit, teaching them to observe all that I have commanded you. And behold, I am with you always, to the end of the age." (Mt 28: 19-20) In this retreat, Bishop Robert Finn will reflect on the commission of Catechists to carry out this mandate of Christ.

While targeted for Teachers and Catechists, all men and women who are interested in the topic are invited to this weekend retreat, especially parents, who are always the first teachers of their children.

Bishop Finn was bishop in the Diocese of Kansas City-St Joseph from 2004-2015, and is now Chaplain to the School Sisters of Christ the King, in Lincoln. As a priest of the Archdiocese of St. Louis, he was a high school teacher and administrator.
Dec. 15-17
Men & Women Register Now

Advent Weekend Retreat with Bishop James Conley and Fr. Gary Coulter, Dec. 15-17

Join Bishop James Conley, Bishop of the Diocese of Lincoln, and Fr. Gary Coulter, Director of Our Lady of Good Counsel Retreat House, for an Advent Retreat open to men and women of all ages Dec. 15-17.

Father Coulter points out, "We prepare for the Eucharist through the sacrament of reconciliation, through some penance that breaks down the barrier of sin between us and God. So we should resolve to spend time and energy in our preparation for Jesus' birth. Advent is the season for preparing our hearts for the coming of the Word Made Flesh."

Bishop Conley agrees, "We live in such a busy world. The demands on our time are relentless and we can get caught in the rhythm of the world - unless we are still and carve out some time for the Lord. We need to disconnect from the grid, unplug from the workday world, and spend some time with the Lord preparing for his coming."

As both great books for advent reading, and as source for the retreat, Bishop Conley recommends Jesus of Nazareth: the Infancy Narratives by Pope Emeritus Benedict XVI. Fr. Coulter recommends Joy to the World: How Christ's Coming Changed Everything (and Still Does) by Dr. Scott Hahn.

Retreatants will be invited to read and meditate on the Gospel narratives of Jesus' birth from Matthew and Luke, as well as the characters in the story, such as John the Baptist, Joseph, Mary, the shepherds and wise men. Note: last year many missed this retreat due to an ice storm, therefore Bishop Conley has graciously agreed to repeat the topic again this year.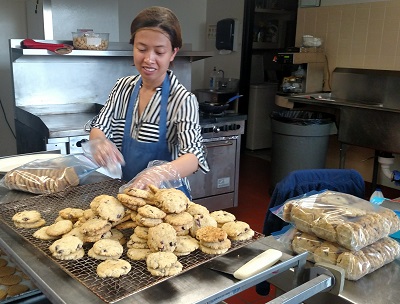 Retreat House Catering Available during the Holidays and throughout the Year
Those who have been on retreats have met our professionally trained cooks and staff, and experienced the many great dishes they can prepare. Here our head chef, Tra My, is seen baking cookies for this weekend's retreat.
Yet many do not know how Good Counsel Retreat House offers Catering Services, available for events ranging from business meetings to office parties, wedding rehearsals to family celebrations.
Breakfast, lunch, dinner... and anytime in between! We are available to cater small groups or large celebrations, we will customize a menu tailored to your needs and tastes.
Our Catering Services are available anywhere in the Lincoln area, delivered to your home, office, or any venue of your choosing. Or looking for a place to hold your next catered event? Consider Good Counsel Retreat House: a quiet, clean and serene facility that just may be the perfect fit.
Visit our website goodcounselretreat.com/catering for a full range of menu ideas, and contact Al Zach at 402-786-2705 or al-zach@cdolinc.net to discuss the possibilities for your next exquisitely-catered event... we promise you will be thrilled!