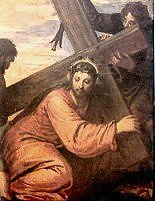 Valentine's Day is Ash Wednesday!
Valentine's Day, February 14 is widely recognized as a day for love and romance as the feast day of St. Valentine of Rome, a priest martyred for marrying Christian couples and aiding Christians being persecuted by Emperor Claudius.
This year February 14 is also Ash Wednesday, the beginning of Lent, our annual season of repentance and conversion (especially through the Sacrament of Penance/Confession) and a time meditate on the Lord's Passion (through the Stations of the Cross). We work to fight against sin and temptation (through our sacrifices, abstinence and fasting) and to grow in virtue (through acts of charity and almsgiving).
Please consider one of our many Lenten Retreats this year: Feb. 14 Ash Wednesday Reflection, Feb. 16-18 Women's Retreat with Fr. Kilcawley, Feb. 23-25 Men's Retreat with Bishop Bruskewitz, Mar. 2-4 Bible Retreat with Fr. Faulkner, Mar. 16-18 Women's Magnificat Retreat, Mar. 19-22 4-Day Ignatian Retreat, and Mar. 23-25 Palm Sunday Retreat with Fr. Coulter.
Feb. 14
Men & Women View Schedule

Ash Wednesday Day of Recollection open to Men and Women with Msgr. Thorburn: The Power of Silence, Feb. 14, 2018

The Lincoln Diocesan Council of Catholic Women (LDCCW) organizes an annual Ash Wednesday Day of Recollection, this year on February 14, beginning with 9:00am registration till approximately 3:00pm close at two locations: Waverly Retreat House and Hastings St. Michael.

New this year, the Day of Recollection at both locations will be open to both Women and Men. Men are now also invited to join in getting a jump-start on Lent. The Day includes Conferences, Chaplet, Rosary and Stations of the Cross, Confessions, and of course Mass with ashes.

The Ash Wednesday Recollection at Our Lady of Good Counsel Retreat House in Waverly will be presented by Msgr. Timothy Thorburn, Vicar General of the Diocese of Lincoln, on the theme: "The Power of Silence", based on the book by Cardinal Robert Sarah: The Power of Silence: Against the Dictatorship of Noise. The cost for the day at Waverly is $10. Please bring a sack lunch; drinks are provided.

The Day of Recollection at St. Michael Church in Hastings will be given by Fr. Jeremy Hazuka who is the pastor there. The cost is $5, and participants should bring a meatless salad to share at lunch. There is no advanced registration for either location. Weather cancellation will follow local schools.
Feb. 16-18
Women Register Now

Women's Retreat with Fr. Sean Kilcawley on Divine Daughterhood/Merciful Motherhood, Feb. 16-18

There are only a few commuter spots left for women to join the retreat February 16-18 on the topic of Divine Daughterhood/Merciful Motherhood.

Every woman is called to live her feminine genius. Beyond just biological relationships, this means every woman needs to recognize her call to be a daughter of God, and be a spiritual mother to those people God places in her life. Join Fr. Kilcawley in deepening a proper grasp of the vocation and dignity of women.

Fr. Kilcawley discusses how we understand what it means to be human and what it means to love by looking at the love of the Trinity. The human family mirrors this love in the love of Mother, Father, and Child. Our identity as human beings is rooted in our relationship to God the Father, and we first learn to trust in the context of a family.

Fr. Sean Kilcawley in a nationally recognized speaker on Theology of the Body, human love, and recovery from pornography addiction. Ordained in 2005, Fr. Kilcawley was an assistant in Lincoln at St. Joseph and North American Martyrs, while teaching Theology of the Body at Pius X High School from 2005-2009. He did advanced studies at the John Paul II Institute for Marriage and the Family, and currently serves as director of the Diocese of Lincoln Office of Family Life, and as theological advisor for Integrity Restored, www.integrityrestored.com.
Feb. 23-25
Men Register Now

Man-2-Man Retreat with Bishop Fabian Bruskewitz, Lenten Outlooks on Pleasure, Power, and Possessions, Feb. 23-25

At the beginning of Lent, the prophet Joel challenges us, "Rend your hearts, not your garments!" Lent is nothing short of a radical invitation to reject the dictatorship of Pleasure, Power, and Possessions - those superficial and disordered idols that too often sully our lives and our communities. Bishop Bruskewitz invites all men to begin this 40-day journey with a weekend retreat Feb. 23-25 entitled "Lenten Outlooks on Pleasure, Power, and Possessions."

Bishop Bruskewitz notes how we all experience temptations, and in a certain sense all sinful temptations can be put under one of these categories. "It is precisely to assist us in confronting the three P's that the Church gives us the holy season of Lent, this Christian 'Springtime.' The three traditional Lenten activities of fasting, prayer, and almsgiving help to control our urges toward pleasure, our drive toward power, and our striving for possessions."

"Rather than allowing pleasure, power and possessions to become our masters," the Bishop emeritus continues, "this retreat will prepare and enable men to imitate Jesus in the desert: finding spiritual strength in prayer and in scripture to resist the temptations of the evil one."

He notes that the gospel of Jesus being tempted in the desert is always read on the first Sunday of Lent, and that each of the diabolical temptations of Our Lord were also these three categories: pleasure (turning stones to bread), power (commanding the angels), and possessions (all the kingdoms of the world), cf. Luke 4 or Matthew 4.

Bishop emeritus Bruskewitz became the eighth Bishop of the Diocese of Lincoln in 1992. He retired in 2012 and has now been a priest for 57 years and Bishop for 25 years.

Wives might consider this retreat as a Valentine's gift to give their husbands.
Mar. 2-4
Men & Women Register Now

Weekend Retreat with Fr. Joseph Faulkner, The Bible lets you talk to God better, Mar. 2-4

"I want this retreat to be for the person who wants to pray with scripture, or desires to know the bible better, but is fearful because its so big and they feel they don't have the time to study the scriptures in depth. I want to give them a little more confidence with the bible, both the big picture overview of salvation history, and walking through some different scripture books, styles and stories, so that passages will make more sense in context."

That's how Fr. Joseph Faulkner describes his March 2-4 weekend retreat for men and women entitled The Bible lets you talk to God better. "The goal is to help people approach a scripture passage and be able to pray and meditate with it, coming to a deeper understanding of how God speaks to us."

Retreatants should bring their bibles, and for further reading some sources on the four gospels which Fr. Faulkner likes to include are: To Know Christ Jesus by Frank Sheed, the Jesus of Nazareth trilogy by Pope Benedict, and The Challenge of Jesus by N. T. Wright. His favorite book is Mere Christianity by C.S. Lewis.

"Retreats are about turning off the engine," says Fr. Faulkner, "not just slowing down, but actually coming to a full stop, getting away, a chance to breathe, rest, let your thoughts settle - and stop checking your phone!"

Fr. Joseph Faulkner is pastor at St. Wenceslaus Parish in Wahoo. Previously, he was pastor at St. Ann, Doniphan and Sacred Heart, Kenesaw while teaching at St. Cecilia School in Hastings. Fr Faulkner enjoys teaching, has worked in Catholic Schools since he was ordained in 2005, and has been involved with the summer catechetical program Totus Tuus since it started in 2002. His homilies and blog posts can be found at fathertalkstoofast.blogspot.com.
Mar. 23-25
Men & Women Register Now

Update: new Palm Sunday Weekend Retreat with Fr. Gary Coulter, Finding Peace in the Divine Will, Mar. 23-25

There is a change to the spring retreat schedule, as the Palm Sunday weekend retreat March 23-25 will be given by the Retreat House director, Fr. Gary Coulter entitled "Finding Peace in the Divine Will." This retreat will be an opportunity to enter into the beginning of Holy Week and meditate on the different events of Jesus' passion, particularly to spend an extended time with Jesus in the Garden, reflecting on and praying with his words, 'Father, not my will, but your will be done' (Luke 22:42).

The primary source for the retreat will come from The Hours of the Passion from the writing of Luisa Piccarreta published by her spiritual director, St. Annibal di Francia. Fr. Coulter explains, "Although her writings have not been approved as by the church as authentic private revelation, we know that any private revelation will only confirm have we learn in the bible, just as Jesus teaches us to pray 'Thy will be done.' It is a reminder of how we are all called to carry our and live in the Divine Will, in imitation of Mary's yes, 'let it be done to me according to your will' (Lk 1:38)."

The Servant of God Luisa Piccarreta was born in Corato, Italy, in 1865. At age 11, she became a Daughter of Mary and at age 18, a Dominican Tertiary. Invited by the Blessed Virgin Mary she offered herself to the Lord as a victim of love and reparation when she was 17 years old. From this point on, she was slightly more than 64 years in bed and was nourished almost exclusively on the Eucharist. By obedience to her confessor (who was recently canonized, St. Annibal Maria di Francia), she wrote her spiritual diary for 39 years, even though her education consisted of only first grade studies. Luisa, the "Little Daughter of the Divine Will," chosen by God for the mission of "Thy Kingdom come, Thy Will be done on earth as it is in Heaven" died on March 4, 1947. Her cause for Beatification is currently open at the Vatican.

Listen to an introduction to the Divine Will devotion at www.divinewilltallahassee.com and more talks at divinewilllife.org.