Our Lady of Good Counsel Retreat House has served in the Diocese of Lincoln for over 53 years, providing a quiet place of prayer and recollection, situated on a spacious acreage near Waverly, Nebraska. The facility includes fifty single rooms, each with a private bath. Each retreat includes meditations by the retreat master, and ample opportunities for silence, prayer, adoration and the Sacraments. Retreats typically begin with a Rosary and Mass at 8:00 PM on Friday evening, and end with Mass and lunch on Sunday.

All retreatants are considered part of the Good Counsel Retreat House "family". Each month, a Mass is offered for all current and past retreatants, and for the fruitfulness of our retreats. To become a member of our family, you simply need to come on retreat. We also ask your prayers and support so that we can continue our mission to enrich people's spiritual lives through meaningful retreat experiences. We hope you can join our spiritual family: decide to make a retreat with us this year and share in the many benefits. Please be sure to promote the Retreat House to others, and bring a friend.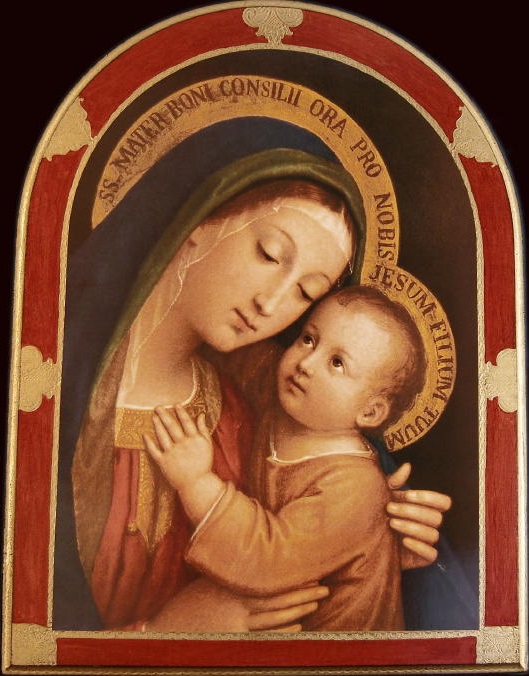 Today, April 26, is the Feast Day of Our Lady of Good Counsel

Devotion to Our Lady of Good Counsel dates to April 25, 1467 when a miraculous picture of Our Lady, now known as "Madonna del Buon Consiglio", first appeared at Genazzano, Italy about twenty-five miles southeast of Rome, in the old church of Santa Maria. The venerated icon is on a thin sheet of wall-plaster little thicker than paper, and was observed to hang suspended in the air without the slightest apparent support. At once devotion to Our Lady in Santa Maria sprang up, pilgrimages began, and miracles in ever-increasing numbers were recorded at the shrine, as they still continue to be.

Given approval by numerous Popes, the church of Santa Maria in Genazzano was elevated to the rank of minor basilica and the invocation "Mater Boni Consillii" was inserted into the Litany of Loreto. The feast day, for which an Office and Mass were composed with proper hymns and lessons, is held April 26, the day after the anniversary of the apparition, so as not to conflict with the feast of St. Mark the Evangelist. Pope Leo XIII sanctioned the use of the White Scapular of Our Lady of Good Counsel for the faithful, and in the United States there are many churches and institutions in honor of Our Lady of Good Counsel. She is the patron of our Retreat House and also of the Lincoln Diocesan Council of Catholic Women (LDCCW).
May 5-6
Women
Register Now

2-Day Retreat for Women May 5-6 with Sharon Doran on Women in Scripture, May 5-6

All women are invited to discover the life-giving power of God's word in the Scriptures with a 24-hour retreat May 5-6 with Sharon Doran.

Sharon Doran serves as the teaching director of Seeking Truth Catholic Bible Study. Sharon has a passion for scripture that will motivate and challenge women on the retreat to immerse yourself in God's Word and apply His message to your every day life. "Seeking Truth" is an in depth Catholic Bible Study, commissioned by the Archdiocese of Omaha in response to John Paul II's call to the New Evangelization as well as Pope Benedict XVI's exhortation for all Catholics to study scripture.

Sharon says that "On this retreat we will open up the Old Testament Book of Ruth, the liturgical timing is fitting to prepare us for Pentecost. The Jewish faith had Pentecost long before Catholics did. They called it Shavuot and read the Book of Ruth in their Hebrew Lectionary. Come and see why."

Sharon continues, "We will discover fascinating relationships between women; mother-in-law, daughter-in-laws, romance, loss, loyalty and redemption. We will meet a deliverer in Boaz who points us to Jesus, our New Covenant bridegroom. Come beloved daughters of the New Jerusalem. Come and see His great love for YOU thru the eyes of this biblical heroine Ruth! She is a woman of noble character!"

This 2-Day retreat starts Friday May 5 with 7pm Mass and 8pm Talk, and concludes on Saturday with 6pm Supper. Women of all ages are invited.
June 8-11
Men & Women Register Now

Announcing: Eucharistic Adoration Retreat with the Missionaries of the Most Holy Eucharist, June 8-11

Fr. Sean Davidson and Fr. Barry Braum from the "Missionaries of the Most Holy Eucharist" will be holding a Eucharistic Adoration Retreat with the Knights of the Holy Eucharist June 8-11. Fr. Davidson spent two years serving at the magnificent Basilica of Saint Mary Magdalene in Provence, France, where he received the inspiration for his recent book: Saint Mary Magdalene, Prophetess of Eucharistic Love. Mary Magdalene is known as the "Apostle to the Apostles."

The Missionaries of the Most Holy Eucharist has for its charism the promotion of Perpetual Eucharistic Adoration in parishes and dioceses. The Missionaries are a community working to increase the Eucharistic Reign of Jesus in ourselves and in the world. Its goal is the establishment of Eucharistic Shrines, perpetual adoration in parishes, and the formation of adorers so that they will be able to love Jesus and make Him loved.

"The retreat will be in the form of Eucharistic spiritual exercises, with Scriptural meditations in front of the Blessed Sacrament, daily Mass, as well as Confession and spiritual direction. The goal of the retreat is the renewal of our spiritual life through a profound experience of the healing love of the Eucharistic Heart of Jesus."

While open to all men and women, the primary purpose of this retreat is to assist those who are promoting the adoration apostolate in their parishes, who are interested in getting more involved, or who to establish Eucharistic Adoration in their parishes. Therefore this 4-day retreat is offered for the incredibly low suggested donation of $150. Daily conferences will include practical helps on starting, building, and maintaining Perpetual Eucharistic Adoration.
July 3-11
Men & Women
Register Now

8-Day Ignatian Retreat for Laity with Fr. Christopher Barak

An Ignatian Retreat for laity and religious will be held July 3-11, 2017 (the evening of Mon. July 3rd to the evening of Tues. July 11th).

The directed Ignatian retreat involves several extended prayer periods daily, with passages from Scripture or specific spiritual themes, chosen or suggested by the director giving the Spiritual Exercises, based on his knowledge of the retreatant's progress during the retreat. Giving the Exercises will be Father Christopher Barak, pastor of St Vincent de Paul Church in Seward; and if necessary, other priests of the Diocese of Lincoln.

The retreat is based on the Spiritual Exercise of St. Ignatius (suggested: the Fr. Puhl, S.J., translation is preferred). You may wish to read the first 21 numbers of the Spiritual Exercises; you also might like to read Meditation and Contemplation by Father Timothy Gallagher, OMV. The suggested donation is $80 a day, if you cannot afford this, please do not let it keep you from making the retreat. Your pastor or a group in your parish may be willing to help you.

This retreat is open to men and women, seminarians and religious of all ages. Please email goodcounsel@cdolinc.net or call 402-786-2705 to request an application form, and submitted you completed application soon as space is limited.
Wed. May 24 - Ascension Holy Day and the Retreat House Anniversary

May 24, 1964 was the Dedication of Good Counsel Retreat House and the Catholic Center at Waverly. The Church calendar celebrates the memorial of the dedication of churches, such as the Roman basilicas (St. Mary Major on August 5, St. John Lateran on November 9, and St. Peter and Saint Paul on November 18) and the local cathedral's dedication anniversary is also a memorial in the diocese (August 17 for the Cathedral of the Risen Christ of the Diocese of Lincoln.)

This year the anniversary of the dedication of the Retreat House and Catholic Center falls on the vigil of Feast of the Ascension. Celebrated forty days after Easter, Ascension Thursday marks the definitive entrance of Jesus' humanity into heaven, so that we may live in the hope of one day being with him for ever.

You and your family are invited to come celebrate this Holy Day of Obligation and our 53rd Anniversary, with a Holy Day Mass Wed. May 24 at 7:00pm, followed by a brief reception to share in our local history on this Holy Day.


Click to see the Aerial View of the Catholic Center.