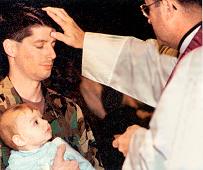 The Call of Lent: Conversion
The call to conversion during Lent is powerfully made on Ash Wednesday, when ashes are blessed during Mass and then "imposed" on the faithful as a sign of conversion, penance, fasting and human mortality.
The liturgical changes for Lent are also evident reminders of this season. The liturgical color changes to purple - a symbol of penance, mortification and the sorrow of a contrite heart. There are no flowers or decorations, less musical accompaniment, and we do not sing the Alleluia during these 40 days - all part of our intense preparation to celebrate with even greater joy the Resurrection at Easter. The readings in the Masses for Lent focus on our spiritual journey, coming toward Christ, and the salvation he offers in His death and resurrection.
And what better way to get ready for Easter than to make a good Confession during Lent? Be sure to prepare for this Sacrament by make a good examination of your conscience, and perhaps use a Guide to Confession to help you.
Mar. 3-5
Men & WomenRegister Now

Lent Retreat with Msgr. Joseph Nemec, Discipleship according to St. John's Gospel, Mar. 3-5

Start the Season of Lent with Msgr. Joseph Nemec for a weekend Lenten retreat entitled Discipleship according to St. John's Gospel. As the source of his retreat meditations, Msgr. Nemec recommends that all read the Gospel of St. John, perhaps as a Lenten resolution. He hopes that each retreatant will "first realize we are the Beloved Disciples of Jesus, and second live as Beloved Disciples of Jesus."

He explains that "in his Gospel, whenever St. John refers to himself, he uses the phrase 'the one whom Jesus loved.' As he wrote his Gospel, St. John reflected on all that had happened and truly understood how much Jesus loved him and what it means to be a 'Beloved Disciple' of Jesus." "This is one of the main themes in the Gospel of St. John," Msgr. Nemec continues, "and he desired that everyone who reads his writings would come to the same realization: we all are the Beloved Disciples of Jesus."

Msgr. Nemec is an ardent supporter of silent retreats like those offered at Good Counsel Retreat House, and frequently encourages his parishioners to attend. "Otherwise," he says, "in this very imperfect world, we at times may forget the infinite, merciful love of God and just how much He loves us. This can weaken us spiritually. In order to live the Christian life well, we need to understand that we are indeed the Beloved Disciples of Jesus!"

Ordained a priest in 1984, Msgr. Nemec has been pastor at St. Teresa Parish in Lincoln since 1993, administrator of St. Teresa School, and chaplain of the Holy Spirit Adoration Sisters. His earlier assignments include St. Mary parish and the St. Thomas Aquinas Newman Center in Lincoln, St. Paulinus in Syracuse and Holy Trinity in Avoca, and teaching at Lourdes Schools in Nebraska City. Msgr. Nemec has given numerous retreats, days of recollection, and presentations of the Catholic faith.
Mar. 20-22
Men & Women Register Now

Missionary Discipleship Retreat with FOCUS Campus Ministry and Fr. Jay Buhman, Feb. 24-26

FOCUS, the Fellowship of Catholic University Students will be hosting a Missionary Discipleship Retreat from Monday evening until Wednesday afternoon March 20-22 for both students and adults, men and women.

FOCUS has offered other retreats based on receiving the gifts of the Holy Spirit, and enhancing one's identity as children of the Father, so it was a natural fit to also have one on the Second Person of the Trinity: developing an intimate relationship with Jesus Christ as His disciple. Jim Jansen, FOCUS Team Director at UNL explained, "The theme of "missionary discipleship" will emphasize the call both to 'follow' and 'fish' with the Lord."

FOCUS, the Fellowship of Catholic University Students is a national outreach that meets college students where they are and invites them into a growing relationship with Jesus Christ and the Catholic faith. Began in 1998, this evangelization of college campuses has exploded across the country, with over 550 missionaries now serving on 125 college campuses. FOCUS missionaries are typically recent college graduates who devote two or more years of their post-collegiate lives to reach out to peers on campus.

The spiritual director for the retreat will be Fr. Jay Buhman, currently assigned as a chaplain with FOCUS. A priest for over twelve years, Fr. Buhman was privileged to serve as an assistant in Lincoln at St. Teresa, St. Thomas Aquinas/Newman Center, and Cathedral of the Risen Christ, as well as teaching at Pius X High School. He was also pastor of St. Peter and St. Joseph churches in Bellwood and a teacher at Aquinas High School in David City.

The Missionary Discipleship retreat is open to men and women of all ages, not just those who participate in FOCUS or are FOCUS alumni. There is $40 discount for college students (who are on Spring Break) off the regular retreat cost of $170, but as always it is only a suggested donation.
Mar. 24-26
Men & Women
Register Now

Lent Retreat with Fr. Mark Cyza, Healing in the Heart of Christ, Mar. 24-26

Fr. Mark Cyza invites all to focus on how different wounds, especially those that result from sin - our own sins and the sins of others, can impact our relationship with Jesus: "Jesus is the Divine Physician, he really wants to enter into our woundedness, which does not have to separate us from him," Fr Cyza says. "Indeed through healing, those wounds can become an opportunity to deepen our relationship with him. Acknowledging our wounds and understanding our past sins can allow the healing presence of Christ into our lives."

For those interested in going deeper on the topic, Healing in the Heart of Christ, Fr. Cyza recommends the book "Be Healed: A Guide to Encountering the Powerful Love of Jesus in Your Life" by Catholic therapist Dr. Bob Schuchts, whose blog can be found at www.jpiihealingcenter.org.

Fr. Cyza continues, "I recommend this retreat for everyone, because we all have the wounds of sin and all need the healing that Jesus Christ can provide. Therefore I pray it would be beneficial for anyone interested in attending."

Fr. Mark Cyza is pastor at St. Benedict Parish in Nebraska City and Chief Administrative Officer at Lourdes Central. Ordained in 2005, Fr. Cyza was an assistant pastor at the Cathedral of the Risen Christ in Lincoln and at St. Mary Parish in Nebraska City. He has always been involved in teaching and schools, and also the Spanish-speaking apostolate. Some of his homilies and retreats can be found at www.comehometojesus.com.
Mar. 31-Apr. 2
Men & Women Register Now

Lent Retreat with Sr. Ann Shields, S.G.L., God is Savior, Shepherd, King, Mar. 31-Apr. 2

Sister Ann Shields will lead this lenten retreat weekend on the theme: God is Savior, Shepherd, King. Sister will challenge each retreatant to answer to God: "Is He my Savior? My Shepherd? My King? Am I ready to follow where He leads?"

Sr. Ann Shields believes there is a major disconnect in the lives of many Catholics: a separation between God's word and its application to our personal and daily lives. Therefore she says, "the faith needs to go from the head to the heart: it needs to become personal, so that it speaks to me and calls me to change." Sister prays that this retreat for men and women will help people deepen their encounter with Jesus, and through scripture have their hearts set ablaze.

Sr. Ann Shields, S.G.L., is an internationally noted conference and retreat speaker, and the author of numerous books on Catholic spirituality, including Deeper Conversion, To Be Like Jesus, and More of the Holy Spirit. She currently hosts the popular daily radio program Food for the Journey in cooperation with www.renewalministries.net.

Sr. Ann Shields is a member of The Servants of God's Love, a charismatic religious community in the Diocese of Lansing, Michigan. Her recent booklets include: "Faith More Precious Than Gold", "The Mercy of God and the Joy Repentance Brings", "Captured By Mercy", and "Hope in the Midst of Suffering".
April 17, Easter Monday Pilgrimage of Churches
Join Fr. Coulter for an Easter Monday Pilgrimage of churches and shrines on Monday, April 17th. The day begins with 7:15am Mass at St. Teresa Church in Lincoln, the charter bus will stop at the newly remodeled churches: All Saints, Holdrege and St. Mary, Orleans on the way to the Fatima Shrine at Arapahoe. Mass and Prayers throughout the day, return between 6:00-6:30pm. Cost is $50/adult, $20/minor, which includes snacks and lunch.

Make your reservations early: frcoulter.com/EasterMonday as the trip will fill quickly (deadline for registration is Sun. Apr 9). Please register online, or else email goodcounsel@cdolinc.net or call Good Counsel Retreat House at 402-786-2705.

2017 is the 100th Anniversary of the Fatima apparitions in Portugal
View or Print the Flyer
Register Online Now